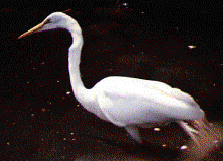 Photo from http://www.assateague.com


Teaching Children About the Natural World

by Dr. Ernest C. Marshall
My wife Karen and I were recently visited in Swan Quarter by our grandchildren, Sarah, who will be 5 next month, and James, born last September, and their mother, Stephanie. We gave them the "grand tour" of Hyde County. Our busy weekend itinerary included taking the ferry from Swan Quarter to Ocracoke, seeing the Ocracoke ponies, and wading in the surf and collecting seashells on the beach. On the mainland side of the Pamlico Sound, we shopped at the Cahoon and Swindell General Store, watched crabbers unload their catch at Claudia & Lyle Cahoonıs Seafood, and toured the Mattamuskeet National Wildlife Refuge and Lodge. We all had a great time and I especially enjoyed sharing Sarahıs enthusiasm for everything she saw and did. Her eyes lit up with amazement upon seeing shark-eye, auger, and cockle shells on the beach, Yellow-bellied Sliders basking along ditches, Great Egrets stalking the marshes, and Ospreys soaring over head.
Their visit prompts me, not just to brag and dote on my grandkids a bit, but to share some thoughts on how experiencing and learning about nature contributes to a young personıs education, to a well-rounded education that develops the body, awakens and trains the mind, and fosters character and the human spirit.
Observing and getting to know nature contributes to a youthıs physical health and growth. As well as sports and physically demanding work, exploring the outdoors by hiking, cycling, canoeing and kayaking, cross-country skiing, and rock climbing offer invigorating and strenuous exercise. To teach children about our natural world, better than putting them in front of the TV to watch a "nature special" or on a bus to a nature center, letıs take them for a long walk -- field guides, binoculars, and bug spray in hand -- in a park, refuge, or game land. There are mammals, reptiles, birds, and wildflowers to see, and an opportunity for fresh air and exercise.
Teaching young people about the natural world awakens the mind, for it is an ideal subject for the curiosity of the young. Showing 8th graders rotifers, hydras, desmids, and the other micro-critters that teem in a drop of creek water and support the food chain of the habitat elicits "awesome" and "totally cool" from them, words we thought they saved for rock or rap stars and video games. Twenty fidgety 1st graders will sit in rap attention to see, not just their favorite TV show, but mounts of a River Otter, Bobcat, Banded Watersnake, or Red-tailed Hawk and to listen to learn about their fascinating ways. In short, kids naturally dig nature.
An awakened interest in nature leads naturally to its study and thence to a mastery of science and mathematics. A generation ago ecology and field biology were perhaps behind other areas of science in technical depth and sophistication. Not so today. The secrets of a forest, pocosin, or marsh are now sought out with computers, quantitative methods, and mathematical analysis, as well as time in the field with binoculars and notebook. The study of natural flora and fauna invites young people to disciplines they often think to be too dry or difficult. Thus educating the young about nature trains the mind.
Nature education can also cultivate character. My years long ago as a Boy Scout had much to do with creating both a love of nature and needed discipline and self-reliance in a teenage boy. I vividly remember my first scout camping trip when I was 10 or 11. I had to quickly learn how to cope with the basics of living in the outdoors, where there is no plumbing or electricity and Mom is nowhere around. What do you eat when you burn your supper to a crisp over the campfire? How do you get warm after you fall into the creek, and itıs after sundown in early March-- and you forgot to put a change of cloths in your pack? Nature is pretty butterflies and sunsets but also seasons, weather, and tides, and the difference between Copperheads and Cornsnakes, and Poison Ivy and Virginia Creeper. From this shaky start I learned the skills and self-confidence to supervise campers and lead cross-country hikes a few years later at Philmont Scout Ranch in the wilds of New Mexico. I had learned much about coping with life and coping with nature had taught me much of this.
Across time and cultures poets, artists, and prophets have gone to wild places for inspiration, for as the American poet William Cullen Bryant wrote in Thanatopsis: To him who in the love of nature holds Communion with her visible forms, she speaks A various language; ....
Natureıs moments of beauty move us, her moods of quiet cause us to reflect more deeply. Our experience of the natural world enriches the spirit.
There are many resources available for learning about our natural world. Reading is always a key to learning, and local libraries provide books and periodicals on the subject and the assistance of their staffs. The Golden Field Guides are good, inexpensive beginnersı books for getting to know native animals and plants.
Another resource for nature education is the numerous sites located in coastal North Carolina offering exhibits, programs, tours, and natural environments to explore. Here is an abbreviated list of this rich resource: our state parks, including Goose Creek, Pettigrew, Jockeyıs Ridge, Fort Macon, Hammocks Beach, and Merchants Millpond, environmental learning centers, such as the N. C. Aquariums, located at Manteo, Pine Knoll Shores, and Fort Fisher, the N. C. Maritime Museum and N. C. National Estuarine Reserve in Beaufort, the N. C. Estuarium in Washington, Interpretive Trails on the Cashie River in Windsor and Scuppernong River in Columbia, the Gull Rock Nature Center, and the Morningstar Nature Refuge in Williamston.
At least as important as libraries and environmental education centers is visiting natural environments such as can be experienced in our state parks and other places already mentioned, but especially in our National Wildlife Refuges and National Forests. All but one of the eleven refuges in North Carolina are to be found in the east, and these include Mattamuskeet, Swan Quarter, Alligator River, Pocosin Lakes, and Pea Island. The Croatan National Forest is located south of New Bern.
There are also resources available that we adults -- parents, grandparents, teachers, and others -- may utilize to learn about the natural world in order to pass this on to our young people. To get information on workshops, teacher recertification credit, and other programs contact the Office of Environmental Education, N. C. Department of Environment and Natural Resources at 1-800-482-8724.
What is probably most important to childrenıs learning about nature is the time we adults spend with them sharing an experience of that world. In the words of Rachel Carson, the famous marine biologist, author, and great nature educator of our century, in The Sense of Wonder: "If facts are the seeds that later produce knowledge and wisdom, then the emotions and impressions of the senses are the fertile soil in which the seeds must grow. The years of childhood are the time to prepare the soil."

Copyright Ernest C. Marshall; please do not reprint or use this article in any way, except for personal use by you and your family, without permission of the author.


Back to Nature Study Page



Background by